"How to Download Copies of The Net's Best
Bass Jam Tracks Whenever You Want...
These Are *REAL SONGS* By Artists Like Stevie Wonder, Michael Jackson,
The Jackson Five, Red Hot Chili Peppers, Eric Clapton,
Fred Hammond, Etc... Recorded Live in Studio By *REAL* Musicians With The Bass Lines Removed, So You Can Play Along!

Keep Reading to See How to Get A Bunch of 'Em For FREE!


Keep reading because I give more samples below...


From The Desk of: Alex Sampson

Hey there,

ou might want to grab your bass if you can...
...Because I want to GIVE you five awesome, *FREE* jam tracks of some pretty popular songs, (with the bass track removed) so you can get to jam along with my red hot studio band, from the comfort of your home.
Here's why I'm doing that...
You see, I hardly talk about it much but one of the single biggest secret weapons I use to make sure my playing gets, and stays "on point" is PLAYING WITH OTHER HIGHLY SKILLED MUSICIANS.
I'm not kidding...
...No matter how much noodling around I do with scales, finger exercises, theory and all that other tedious ground work kinda stuff, the biggest leaps forward I see in my playing (and incidentally the most fun I have) always come whenever I find myself CONSISTENTLY PLAYING TUNES -- especially with other musicians who are better than me!
And I'm not just talking about being in a 'shed session' with a bunch of other bass players either...
I'm talking about ME jamming SONGS with other musicians, even if when I'm the only bass player there.

How Else Can You Explain This?
...I'm not sure exactly how to explain it other than to say that there's just something about consistently playing alongside advanced musicians that's nothing short of MAGICAL. And any of you folks who ever get the opportunity to play in a band setting can surely relate.
...If you have to play a gig, where ever it is, and the other musicians in the band are tight, your playing is almost ALWAYS ten times better and more inspired than if you take a gig where the other musicians you're playing with are flaky.
It happens to me all the time.
It's not just that the overall 'band' doesn't sound great... 9 times outta 10 YOU personally don't play half as good as you could when you play gigs with weak musicians.
You struggle with your timing, your groove is weak and ideas are always limited.
On the other hand, get in a room with some easy going, laid-back dudes who can hold there own, and by song 2 or 3, it's like you're superman too. You find yourself trying stuff you would have never have even thought of before.

Well Here's The Best & Easiest Way I Can Think of
To Give You The Same Advantage Every Day
How would you like to be able to play along with my studio band any time you wanted to?
Each of my musicians is very highly skilled and they can play almost any song YOU wanted to play...
Let me explain...
For years I've been agonizing over finding ways to give my customers and subscribers access to the best jam tracks I could...
But I didn't just want to make it 'random' tracks at all... I wanted to be able to legally give you a way to jam with quality musicians and improve YOUR musicianship using songs you already know and love...
Because that is what EVERYONE really wants... To jam to SONG they already KNOW and love.
The problem is, getting to jam with a high quality band and play popular songs (other people's music) is a REAL pain in the bongos. In fact, for most bass players I know it's not even an option.
Even if you happen to know a bunch of advanced musicians, most of the time they either don't have the time, can't all get together or don't really want to jam with you...
And if by some miracle you had a tight band just sitting around waiting for you to call 'em up to jam, getting together is still an organizational pain, PLUS when you get together they may not all want to play the same songs you want to play.
And so most practicing bass players are forced to try to find other solutions...
And that's where it gets REALLY tricky. I'm not sure if you've wasted as much time as I have looking at 'solutions' to this problem but if you have you'll quickly realize...

THEY ALL SUCK!

Sucky Solution #1: "Remove-the-Bass Software to EQ the Bass Part Out of an Existing Recording"
I'm sure you've seen it... 'Magic' software that supposedly removes the bass track from a recording…
Well, I can't tell you how many times I've shelled out money, time and effort to download and test those "magic software" solutions, only to be grossly disappointed in the final results.
Maybe you've had a similar experience.
I mean I don't blame the 'software'… The way songs are mixed and produced these days make it very difficult (if not impossible) to remove the 'bass part' from the track, without completely tearing all the life out of the music in the process.
Pardon the illustration but most of those software programs are kinda like chemotherapy treatment…
…Even, when it works at removing most of the bass parts it takes a serious toll on the rest of the music as well.

Sucky Solution #2: "Software Programs to 'Key in' the Chords of a Song and Jam Along"
In my estimation this is at least better than "Sucky Solution #1" but it's still pretty weak compared to what we really want to have.
Cause let's face it… Whenever we try to piece together a song ourselves in these "Band Software Programs" the finished version NEVER quite sounds like the original.
It takes a lot of imagination because it's all the little licks, fills and phrases that really MAKE a song... Not just the chord structure!

Sucky Solution #3: "Jamming With a Collection of Short Pre-recorded Loops"
To be honest I've offered these to customers before and I do think a loop is a great way to shape up your playing, but jamming to a loop is FAR, FAR removed from playing an actual song...
A real song has structure, sections, hits and accents, flow, dynamics... All stuff that a loop can't really capture.

Sucky Solution #4: "Settle for Using Weak Midi Files You Find Online"
I don't really dig the MIDI file solution at all because first off, if you want to get a great sounding track out of a MIDI file you need an expensive bundle called a "Virtual Instrument Kit" 'cause just playing a MIDI file through your computer's sound card is super corny.
And I'm not sure if you know but the good "Virtual Instrument Kits" are flat out pricey and overly complex to use.
But what's worse is that no matter how expensive and high-end the Virtual Instrument Kit" is, often times when you replay a midi file it looses the timing subtleties and feel that only a REAL human musician can give you...
For me that's too much effort for something that 8 times outta 10 doesn't sound quite convincing.
So when I started thinking about how to get you jamming to hit songs from the comfort of your home, I simply wasn't going to do any of those things...

So Eventually I Cowboy-ed Up And Decided To
Do Whatever it Takes to Give You...
Popular hit songs, recorded by real musicians PERIOD!
No funny business, no tricks, no smoke and mirrors... Just LEGAL copies of songs from top artists like Eric Clapton, Stevie Wonder, John Mayer, Donnie McClurkin, Red Hot Chili Peppers, D'Angelo, Police, Jackson 5 etc, etc, etc, etc, etc, etc…
…Rock songs, Blues, Funk, R&B songs, Gospel songs, Soul, Latin Jazz Fusion, Pop… The list goes on and on.
The result was expensive but TOTALLY worth it!
Oh and I'm even taking request for songs too... So if there's a song you REALLY really want a track for, I'll show you how you can have us record it for ya.
And did I mention that I'm also giving you the chord charts for each song as well so you don't have to guess what chords are being played when you're following along?
It's honestly the closest thing you're gonna find to having your own personal 'work-on-your-schedule-play-the-songs-you-want-to-play' band to jam with...
And you get to star as the bass player!
And don't worry... If you're new to reading chord charts, I got you covered... I'm also teaching a quick class on how to play bass lines by looking at chord charts even if you're a beginner!..

The Only Catch Is...
Our high quality tracks are NOT open to the general public!
They are exclusively available to members of an underground membership club we have that's currently limited to 300 people (that's not a gimmick)… The license agreements we obtained to record these hit songs only allows us to "transmit" 300 downloads of each song, then I gotta pull it.
Why?
Because, quite frankly I'm the one who went through the laborious and expensive process of legally licensing the songs, then the added expense of paying my group of exceptionally talented musicians to record them note by note… And I want to keep a close eye on WHO gets to use my tracks...
Each track represents a very costly investment and I'd like to keep them 'among friends' so to speak.
So the only way I can control access to the songs is by assigning people usernames and passwords and putting the song database in a protected members-only area.
And if you think I'm yanking your chain about keeping membership limited, here's a copy of the license agreement for one song we just got done recording -- "Layla – by Eric Clapton"…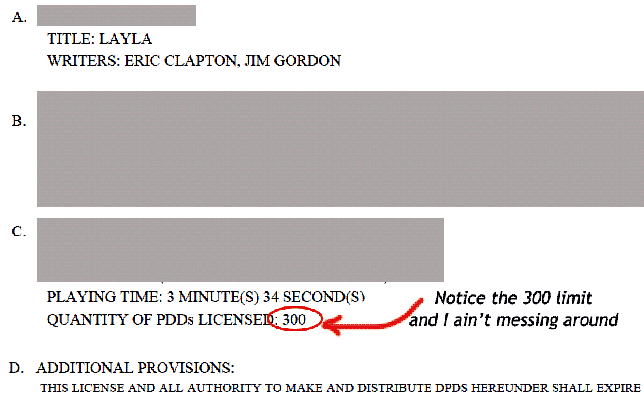 Introducing "Premium Play-A-longs" - Instant
Access to The Net's Best Bass Jam Tracks.
So like I said, to get unlimited access to our premium quality backing tracks you gotta signup for a username and password... Trust me it's totally worth the 'trouble' to join up, because I know this is going to help revolutionize your practice time like nothing else…
If you're suffering from the "can't get practice time to be fruitful" blues, then this may be just what you need to spice it up!
Imagine, right this second our members who want to jam with a real tight band on say "Michael Jackson's – Rock With You" are just logging into the members' area, clicking a button and instantly downloading the backing track and chord chart for that song!..
My band is literally on tap for them – ready to play day or night…
And you NEVER have to worry about paying royalties, or rights or any of that stuff to the artists whose music you're rocking out to…
We've got it covered!
And like I said before we're doing songs for a very wide range of genres… From Jazz to rock, Gospel to Soul, Funk to R & B… Plus of course there's that "Request A Song" hotline inside the members' area I mentioned before.
How's about a few samples of the work we do?



Quality compressed for web streaming. You get the full quality version as a
Premium Play-Alongs member.

| | |
| --- | --- |
| | …Can you imagine how convenient it is to be able to jam at home with my pro-level studio band any time you want to? Not to mention how much it will force your playing to mature…| |
| | Imagine trying out for a band and having the luxury of having practiced all the songs to perfection using our backing tracks beforehand… |
| | …Or let's go wild for a moment and imagine having to do a gig and being able to do it on your own with the backing tracks and you playing live bass! |
I gotta tell ya...
This "Premium Playalongs" idea is probably the easiest thing I've ever had to 'sell anyone on'. Everyone who saw it instantly thought that it the coolest resource they've seen for up and coming bass players.
I mean it's obvious…
People want to play but not everyone has access to a smoking hot band to jam with, at a time that is ALWAYS convenient to them... So having fresh tracks like these available for instant download is a no brainer.
So rather than try to use Jedi mind control to get you to join, I'll just do what I did with my first test group of members… I'll make you an offer you can't refuse… No shenanigans, just a real good deal.

An Offer You Can't Refuse...
"Premium Play-Alongs" is a private 'by-invitation-only' members club…
Every active member gets to download (yes download to keep) any of our "bass-removed" play-along jam tracks that they want. And every single month we're committed to adding at least 5 new tracks to the members area, also for instant download.
I'm offering YOU an invtation to join NOW -- If you want a username and password here's what to do as fast as your mouse-clicking finger can handle...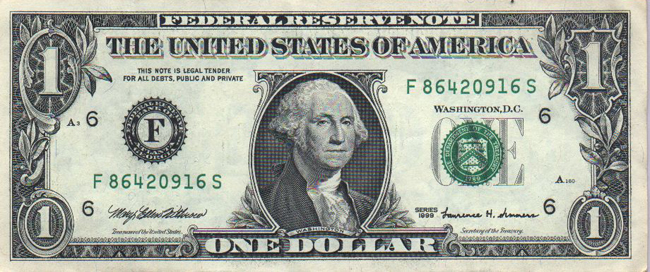 First off it'll only cost you $1 to register and activate your account with a 30 day trial membership.
Just click the REGISTER NOW button below, and for a $1 fee I'll hook you up with a username and password that's good for a 30 day trial membership!
After that there's a tiny, nominal fee just to help us keep this co-op going every month.



But What About The FREE Tracks?
Yes, I do remember saying that I want to just GIVE you some FREE tracks.
Well every trial membership also comes with a FREE "5 Track Starter Pack"... That's on the house!
Signup now, and the first month's "membership fee" is just $1. That single dollar entitles you to the 5 new tracks coming out this month PLUS you get a FREE bonus "5 Track Starter Pack" that I'm giving as a bribe/reward to every new member.
So effectively you're shelling out a "bank-breaking" $0.20 per track for LEGAL, high quality copies of an invaluable practice tool that's rarer than a unicorn, AND on top of that you're getting 5 premium quality tracks for FREE...
Just say "Sure Alex, I'll give it a shot for 30 days..."
And each track comes with a clear, well formatted chord chart as well, AND you get the bonus video class I'm doing called,

"How to Turn Even Complex Looking Chord Charts
Into Effective, Great Sounding Bass Lines."

If you like what you see and want to stick around, I'll even make you a special deal and reduce the membership fees too…
Officially the fee to stay on as a members after the first 30 days is $17 a month, BUT if you sign up today I 'll permanently reduce that fee for YOU to only $9.95 / month for as long as you choose to remain a member.
And to help ease your fears, you can automatically stop your billing at ANY TIME with the click of a button… You don't even have to talk to or email anyone!
Again, here's what to do now…
Just go ahead and click the REGISTER NOW button below and I'll cover most of your first month's membership, (you only pay $1 today)…




You'll get a 30 day trial membership to the "Premium Playalongs Club".
In 30 days you'll get access to 10 mouth watering tracks. ( INSTANT download access to 5 free tracks immediately and 5 fresh tracks released every few days for the next month.)
So in short $1 = 10 smoking hot backing tracks PLUS accurate chord charts PLUS a bonus video training on how to read chord charts!
And to make it even more tempting, there are no hidden contracts or sneaky terms. If you wanna stick around that's great…
If not, it's cool with us to. I can guarantee you there'll always be someone wanting to take your spot.
But I know once you get into using these tracks and see how much more fun and productive your practice time will become, you'll probably never want to quit the club…
BUT if you ever wanted to you could with zero human contact.

We're Taking All The Risk!
The truth is, if you wanted to sign up today download the FREE "5 Track Starter Pack", and download the 5 new tracks we release this month, then cancel on "Day 29", theoretically you could, and we're the ones who would have gonna "conned" out of 10 tracks for a buck.
How's that for transparency?
I really think I've covered it all and made this very straight forward and risk free… Surely you have enough info about the club to 'go out on a limb and risk' a $1 right?




If you're still reading and you're not sure about the club, the only fear I can think is still on your mind is that canceling would be super difficult and we'll somehow use some fancy pants fine print to "put the whammy on you."
Well let me show you something…


That's a screen shot of the Members area and the "Stop My Billing" link… It's not hidden, there's NO fine Print, no shenanigans, no Tom-foolery…
You click that button, confirm your cancellation request and 'poof' that's it... No further charges on your credit card.

But If You Snooze You Lose...
Because there are some basic things about the club you should know about.
1) Without a doubt as you're reading this a bunch of people have already claimed their spots.
If you're slow to decide and agonize too long over whether or not you can spare a single dollar, don't be terribly surprised if you go to sign up and the club is already full.
I mean it's just $1 to signup and the reduced charter membership price is quite meager...
To put the member dues into perspective for you, $9.95 is really only $0.33 a day.
I don't know about you but I think I pay more than $0.33 cents a day in government fees on my phone bill… and that's whether I make a phone call or not.
But I still wanted to find something to compare "Premium Play-Alongs" to, so I tried to dig up similar jam tracks, to see what they cost.
First off I couldn't find ANYTHING that compared to what we are doing for, bass players…
I found a few older jazz play-alongs, and some other really obscure songs, but that was expected because it's a lot easier to re-record old jazz standards and dusty old unknown tunes than current popular songs…
And even those older 'standards' went for $5.95 a piece at the site I found 'em at. (Honestly, not a bad price).
So while I still don't have anything to compare our tracks to, my estimate is that a FAIR retail value for each of our play-alongs, which comes with accuate and detailed chord charts should be at least $6.95 a piece. (I think you'll agree that's pretty conservative.)
Considering that you're getting at least 5 new tracks a month you're downloading $34.75 worth of tracks every month for less than $10.




And you may not realize it but providing premium quality play-along jam tracks for popular songs involves a painful concoction of teeth-grinding lawyer's fees, wallet stomping recording and royalty fees, and nagging bookkeeping fees.
(Part of the deal in getting the rights to do these songs is that we have to do VERY, VERY detailed accounting and reporting of each distributed copy of the tracks.)
And that's not to mention incidental costs like site maintenance, support and any extra little bonuses we throw in from time to time.
The truth is, simply providing this service to you averages out to hundreds of dollars PER SONG.
All things considered I think you'll agree that $0.33 a day to help us keep this one of a kind site alive really isn't going to gouge anyone's eyes out.
Here's the signup button again … If you're interested the $1 deal may still be available.

But It's Time to Close This Up
With a Final Warning…
1) Right now, we're only taking 272 more members… (28 spots are already taken by personal friends and beta testers).
2) If you are a member and cancel, I'm sorry but you won't be allowed to re-join.
Why? -- Because it's not fair to allow folks to "game" the system, by signing up for $1, then canceling waiting a few months then signing up for a $1 again downloading a bunch of tracks and repeating the process.
3) It's $1 to get in and less than $10 to stay in… Most of our customers can easily afford that.
…What this means my friend is, if you're unsure now and you waste time 'thinking it over' chances are the club is going to be at it's 300 person limit for a long time.
So you can literally miss getting a membership and have to stand outside for a very long time waiting for someone to be nuts enough to cancel. And even then we expect to have a waiting list of members who want in.
It's Time To Make A Decision!
Look -- I don't mean to sound snotty, but in today's economy $9.95 ain't gonna buy you a heck of a lot.
With all you probably spend every single month on stuff for your cars, house note, utility bills, etc. investing $9 a month in YOUR BASS PLAYING, even if you think of it as a tiny present to yourself really isn't something that requires a congressional meeting for approval right?
I mean it's ONE LOUSY BUCK... Try it for a month, if you don't like it you can cancel and we'll give your spot to someone else.
Here's the RISK FREE registration link...




Well that's all I got.
Hopefully I see you on the inside cause I really do believe that these play along tracks are gonna help inject so much fun and growth into your practice time it'll be ridiculous.
Go ahead and click the $1 signup button above and we'll get your membership login info over to you in a couple minutes so you can start downloading and jamming.
Warmest regards my bass playing friend...

P.S. I sure hope you took a quick minute to listen to the nine (9) samples we have listed on this page...
Just to give you an idea of the range of styles we're providing jam tracks for, I gave you short samples of;

September - Earth, Wind & Fire | Celebrate - Fred Hammond | Darling Dear - The Jackson 5 | Come Together - The Beatles | Can't Stop - Red Hot Chili Peppers | Isn't She Lovely - Stevie Wonder | Rock With You - Michael Jackson | Cosmic Girl - Jamiroquai | Layla - Eric Clapton.
Click here to take a listen to those samples if you missed it before...
P.P.S. Then when you're done go ahead and click this link to register for a username and password. For $1 you'll get a username and password that's good for 30 days of immediate access to the Premium Playalongs Members Club, and that $1 payment will be good for downloading up to 10 songs!

P.P.P.S. Remember the official price for the "Premium Playalongs" Club is going to be set at $17 month.
Today, right now with this introductory special, you get in for only $1 AND I'll permanently discount your membership dues to $9.95 -- That's a 42% discount!
I'm sorry but I can't see how any practicing bass player would pass on this deal.